Anabolic Steroids and Top Sport: The Physical Transformation of Badr Hari
B
adr Hari is one of the most successful kickboxers our country has ever known. Maybe not even when it comes to winning prizes – we have produced a large number of champions in the Netherlands – but certainly when it comes to talent. Unfortunately also when it comes to controversy.
Not only has he shown a lot in the ring, but he has also made enormous progress in terms of his body in terms of muscle mass. That in itself is a process that comes with getting older and especially getting more mature, but there is ééOne very striking moment in his career. Within less than a year, he gained more than 20 kg of muscle mass, without getting a higher fat percentage.
In itself, it is always difficult to accuse people of using AAS, but in this case, the consensus was not that he had achieved this by eating enough chicken with rice. Such amounts of muscle mass cannot be explained in such a short time. So it's time to take a look at how this development went and also small speculation of what may have been used to achieve that result.
You may also like: TRT – Testosterone Replacement Therapy for Beginners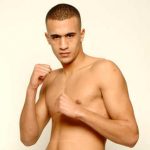 In his younger years the – no less than 1.97 meters long – kickboxer Hari has long been known as a great talent. Despite his very thin physical skills, he was technically very skilled and, above all, extremely explosive. He was soon feared for his long legs that controlled a wide range of kicking techniques, but also for his strong right-wing direct punch. Because of his height, he soon entered the heavyweight division. A division where many men still have a lot of muscle mass.
That was initially no problem. Even though the results certainly changed in the beginning, he quickly managed to book some beautiful and strong victories. At the end of 2008, however, a moment came when Badr realized that he would not make it with technology and explosiveness alone.
Dynamite 2008
After Badr in the Final of the K1 World Grand Prix – at that time perhaps the biggest prize in the world of martial arts – was disqualified, he was looking for a suitable moment to resume. That moment came quickly when he was offered a kickboxing fight against Alistair Overeem a few weeks later.
Alistair Overeem was primarily known as an MMA fighter. In the eyes of Badr an easy party to get in the spotlight again and to wash away the disqualification of a few weeks earlier. In itself a good thought, were it not for Overeem to be a real physical monster in that period, an advantage that Badr soon became acquainted with. Look below for the difference in physical between the two men:
Here you can see that Overeem can easily put pressure on Hari, largely because he was just that much bigger and heavier. So it's time to change that. And so did Hari… Fast!
The rematch less than a year later
During the K1 World Grand Prix, like this 11 months later, Badr immediately got a chance to get revenge. If both Badr and Overeem won their first game – which was in line with expectations – then they would meet again. This time in the semi-final of the K1 GP.
If you look at the images below, you immediately see what a huge difference can be seen regarding the physical of Badr Hari. He comes in a small 20 kg heavier compared to the previous batch and even seems to be drier than before in terms of his fat percentage. A bit suspicious, to say the least. Given that the party is being fought in Japan, doping control is no problem at all. The use of AAS is just not openly promoted there.
Badr suddenly seems to be almost the same size as Alistair Overeem, with its almost comic-book physical. This time it seems as if they belong in the same weight class. The result does not lie and is a reverse version of the previous fight.
But how did Badr get that done so quickly? How does a top athlete who has to stay explosive and fast zócan pack a lot of muscle mass in this way short period, without surrendering too much to cardio? Certainly, we will never know, but many options qualify, but also many options that fall off immediately.
AAS that are not obvious
A fighter does not benefit from a lot of mass if this is at the expense of his cardio. A Badr Hari level fighter needs to be able to train well throughout the year and also to gain enough mass. For someone who is not a total beginner in the field of strength training, 20 kg in 11 months is a decent amount. So all oral drugs are already falling off as the basis of such a cure.
Also, a number of these oral variants have a disastrous effect on cardio and/or joints. Real mass packers such as Deca and Tren also fall over ééone of these reasons. As a bodybuilder, these are great means to gain a lot of mass, but the side effects are sometimes, both physical and mental, not tender.
You may also like: The Basis of Bulks for Maximum Muscle Mass
AAS that certainly qualify
In the case of athletes who have to endure both athletic ability and cardio and heavy training, a logical stack would in any case start with testosterone as the basis. This can be supplemented with agents such as Equipoise, Masteron, Primobolan, or Anavar. All these drugs reasonably meet the requirements that a fighter like Badr Hari sets for a course.
Also, EPO seems to be a logical option to provide your body with enough endurance that can support all of this newly acquired mass. EPO is a drug that is often found in the blood of martial arts, so in many cases, it seems a logical choice, both on paper and in practice.
With a stack-based on testosterone, combined with a cocktail from ééOne or more of the other resources mentioned, it seems possible to gain a huge amount of muscle mass without compromising on athletic performance and training ability.
It seems at least not possible to make such a transformation – in combination with all these characteristics – on proteinïpowder and chicken with broccoli. You don't have to be a sports doctor or genius to understand that. Given the bodies of the opponents at the time, the use of AAS seems nothing more than to go along with the culture and supplements that everyone was good at.